It has been a dream of mine for a number of months to get a Kindle and be able to read all of the science fiction tales to be had through that device which are not availiable in paperback form.  Self Publishing, once the hated bastard offspring of the 'proper publishing house' is now in its own element.  It's a digital age and the world has indeed changed.  I wanted to read of that change for myself and see if things 'rejected' by some would be good enough to entertain others.  I also know there will be a lot of let down and dross to wade through too but we can all enjoy that together.   This festive season my good lady surprised me with just such a device and once I had it set up my first port of call was to purchase the ebook Terms of Enlistment by Marko Kloos.  Having had two days off I managed to read the whole novel while attending to all the other madness of the holiday.  So aside from being my first non-paper reading experience in hand what was the book actually like?  Read on for my own review starting with a short web lifted synopsis.
The year is 2108, and the North American Commonwealth is bursting at the seams. For welfare rats like Andrew Grayson, there are only two ways out of the crime-ridden and filthy welfare tenements, where you're restricted to 2,000 calories of badly flavored soy every day. You can hope to win the lottery and draw a ticket on a colony ship settling off-world, or you can join the service. With the colony lottery a pipe dream, Andrew chooses to enlist in the armed forces for a shot at real food, a retirement bonus, and maybe a ticket off Earth. But as he starts a career of supposed privilege, he soon learns that the good food and decent health care come at a steep price . . . and that the settled galaxy holds far greater dangers than military bureaucrats or the gangs that rule the slums.
I began by reading the 'free sample' offered on Amazon and this got my attention.  A few pages about Andrew Grayson, a street rat, a potential pointless hoodlum in waiting whose life is going nowhere.  His only chance to get out of the PRC is the army.  The book divides into three main parts and these are firstly the slums and military training, secondly military action on Earth and thirdly adventure among the colonies and a change of pace.  I don't want to spoil the tale so I will keep it short and loose.  I thought I was reading one novel when I began and another when I finished and do you know what it was bloody good all the way through.  I could complain about typo's and some editing (the gods know I get them too despite a lot of editing so sod that, it was not enough to spoil the story to any degree) and I could mention the boiler house dialogue in places (some reviewers did but to be honest it made me smile, I like this kind of character speak).  I will mention that the whole book is written in first person perspective and this is no mean feat believe me.  The author does this well and the character grows throughout the novel and you can tell by his mannerisms.   It is military science fiction and the combat scenes work well.  The technology is evident but not overpowering.  Infodumping is there but this is not a problem especially for first person narration.   Characters were well drawn and sparse where needed but rounded where required.  It kept me focused on it.   In short a novel that deserves success and will impress those who want action with a little social-economic thought too.
My opinions were actually mirrored in several of the reviews I read after typing this blog post and that made me laugh.  I will not hide the fact that I should and I could write a novel that would be good for fans of this genre but seriously folks take a dump or get off the can.  Snippy comments by those jade green with envy over another's success (always success not talent remember that) on forums is just sad.  I tend to avoid comments and leave it with a blog review.
You can read an interview with Marko Kloos on Writers & Artists.  Well worth a read for me as it actually validated my thoughts on self publishing through Amazon to Kindle for the talented writers.  Lastly it also informed me of the authors new work Lines of Departure which is due out late January 2014; its been picked up by an Amazon inprint 47North so in  a way Mr Kloos is no longer self publishing!  Evident to this see below for the new (not designed by the author himself).  He has arrived!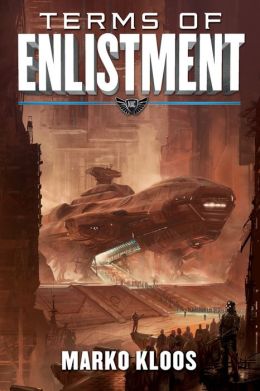 If you like Military Science Fiction then give this a volley of shots.  Its a tungsten flechette of action packed fun that will lift you out of any crummy government apartment in the NAC for a few hours.  I have pre-ordered the sequel this afternoon.
GBS